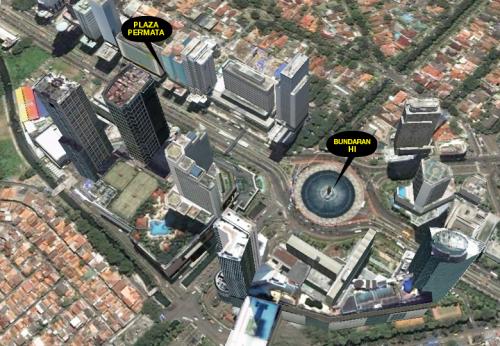 OUR LOCATION
PRIME LOCATION

Plaza Permata is located on Jalan M.H. Thamrin - recognized world-wide as Jakarta's prime business address.

GOOD SURROUNDING

Situated opposite a 5 stars Grand Hyatt Hotel, Plaza Indonesia Shopping Complex, Japanese embassy and adjacent Jalan Sudirman, Plaza Permata is at the core of the city's commercial, government and banking sectors the GOLDEN TRIANGLE. Not only does Plaza Permata offer ease of access both to and from the development, but its Thamrin address means convenient connection to the rest of the city.

ACCESSIBILITY

Two ways entrances to Plaza Permata (FREE 3 in 1).
OUR BACKGROUND
Plaza Permata was built in 1989 and operated in 1991. The building consists a wide range of business sectors that include banking, finance, media, educational and many others. As of June 2009, there are 37 companies reside in Plaza Permata, which are based locally and internationally. Beside offices, Plaza Permata also provides facilities for its tenant such as restaurant, mini café, and post office convenient store.
Plaza Permata's vision is to give its tenant excellence services. Therefore, in the year 2008, the management team decided to improve their service standards by getting ISO (International Standard of Operation). By the end of 2008, Plaza Permata successfully obtains the certification in Quality Excellence.
MISSION AND VISION
This is our commitment, the management as a whole, to care about tenant's need or complaints consistently. In order to achieve this, we are committed to improve our quality of services, professionalism and give our tenant a secure, comfortable and fun working environment continuously.
THE SKY IS THE LIMIT
ATRIUM

This distinctively designed lofty atrium and over-headed skylight allows natural light to filter and air to circulate throughout the expensive entrance foyer penetrating work areas to promote energy savings while creating a warm, refreshing ambience.

The atrium foyer entrance reflects the building's fine, modern synthesis of smooth, clean lines with warm, unrivaled elegance – an integrated design blending practicality with distinction. Plaza Permata is the only building on Jalan M.H. Thamrin which has an atrium.
BUILDING INFORMATION
Plaza Permata consists of 14 floors. The parking space occupied the second floor to sixth floor. Plaza Permata's structure is different from other office buildings because it has empty zone (void) in the centre of the building that allows tenants to have more spacious common area. There are 5 elevators operating in the building; one of them is the service lift. The building is fully back up by generator if the power supply from PLN is terminated. For more click here